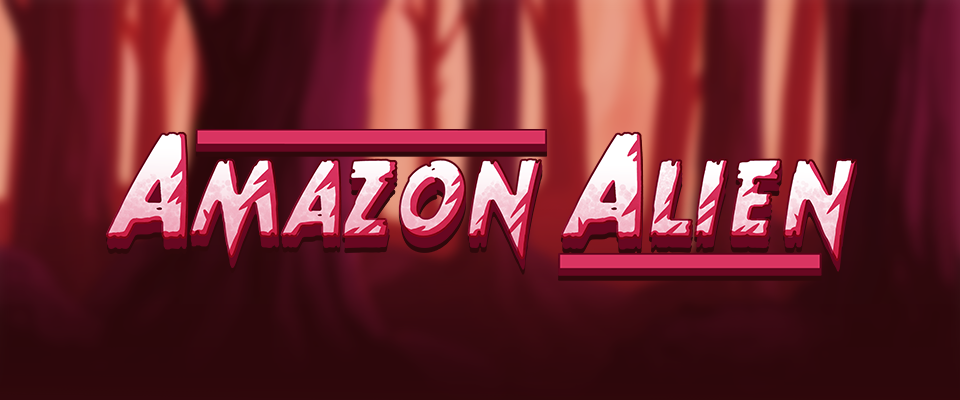 Amazon Alien
Amazon Alien Devlog #2 (Project's Concept)
---
English Version
Devlog 2 (Project's Concept)
What's up guys? All right? Here who writes is Ricardo Luiz, programmer, leader, producer of Pippin Games Studio.
First of all, thank you very much for your interest in reading our DevLog and in new games.
In this Devlog I will cover a very cool theme: How was our Amazon Alien concept week.
Enjoy and pass our social networks Facebook, Twitter and Instagram and take a look at our other games KDD, Fungi, Marine, Glad Gladiators. I'm sure you will like it!
What is Amazon Alien?
In Amazon Alien, several intergalactic tribes of warrior women, during the galactic planetary alignment, vie for a deadly fighter race. Where a lucky man is kidnapped to prey on these fierce fighters. The goal is simple who captures the target wins. But it won't be so easy with so many skilled Amazons in contention.
A dangerous planet is chosen as the venue for competition, so the hunt is unleashed to try to escape its inevitable fate. The Amazons then begin their races and fights with each other to see who catches them first. The winner beyond the title of champion takes the hunt, and enjoys it the way you want
The game follows a mix of Runner and Party Games, competitive for up to 4 players, with frantic brawling, super cute and charismatic characters, beautiful vivid art using 2d movement technology and special cutscenes at the end of each game.
Concepts
Why is game conceptualization so important? As I discussed in the last Devlog, the importance of the concept (whether artistic or textual) is to give an insight into the expected outcome of the project and help in planning activities and steps. By building concepts, before you get your hands dirty, you can visualize the most risky points, find elements that can be cut, so I think planning is the keyword.
Character Concept
For Amazon Alien was built 2 characters with different abilities. I introduce the concepts of Bionic and Killer. 2 races of amazons.
Bionic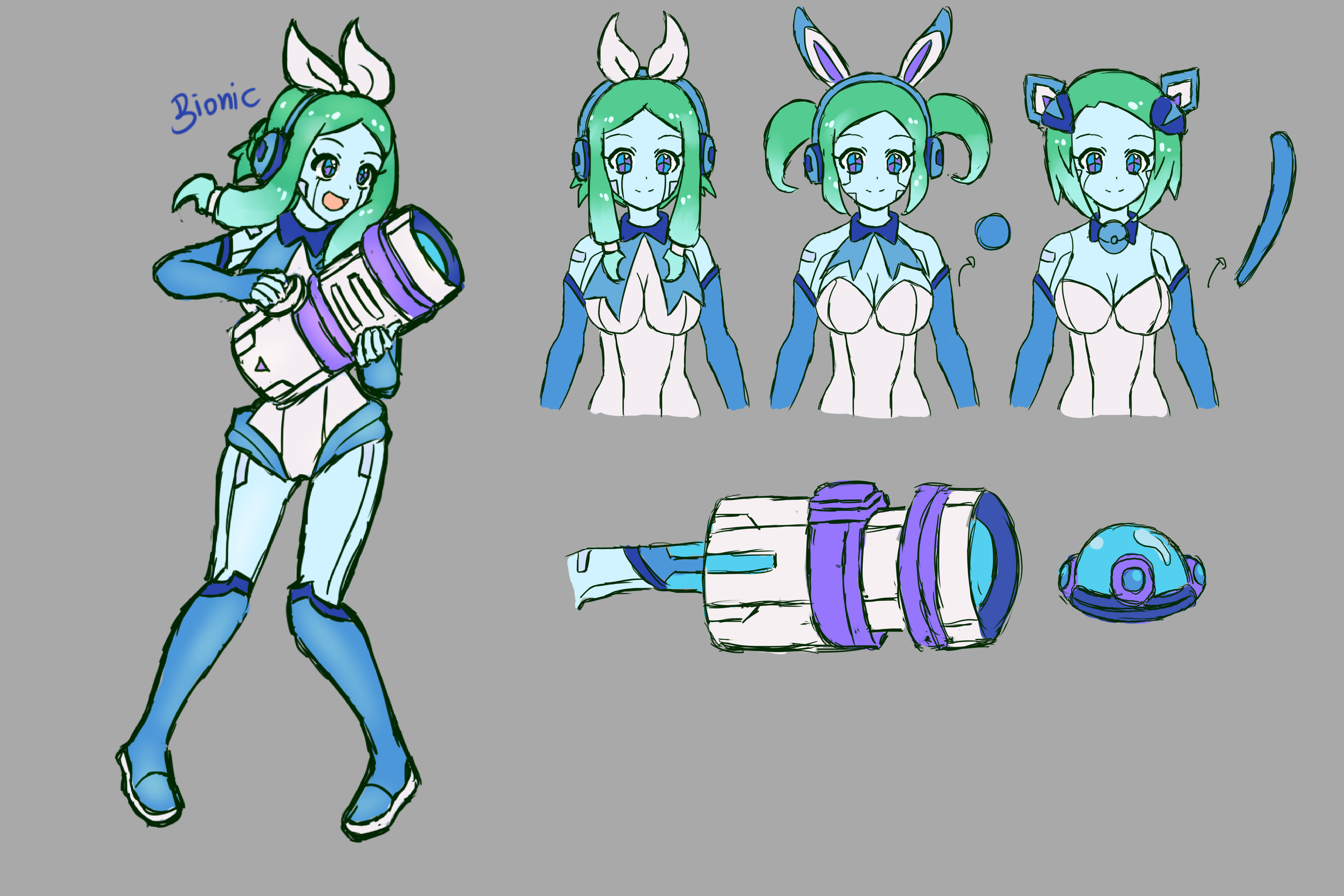 Bionics are a race of cyber warriors, with a highly technologically developed society, advanced knowledge, civility and a patience-winning concept, they love cute things (accessories, clothes, candy, pets, though they don't need any of this) because of its robotic body). But don't be fooled by its sweetness, beauty and sweet little way. In the end they are also warriors, crazed for a win and another cute gift in their collection.
Killer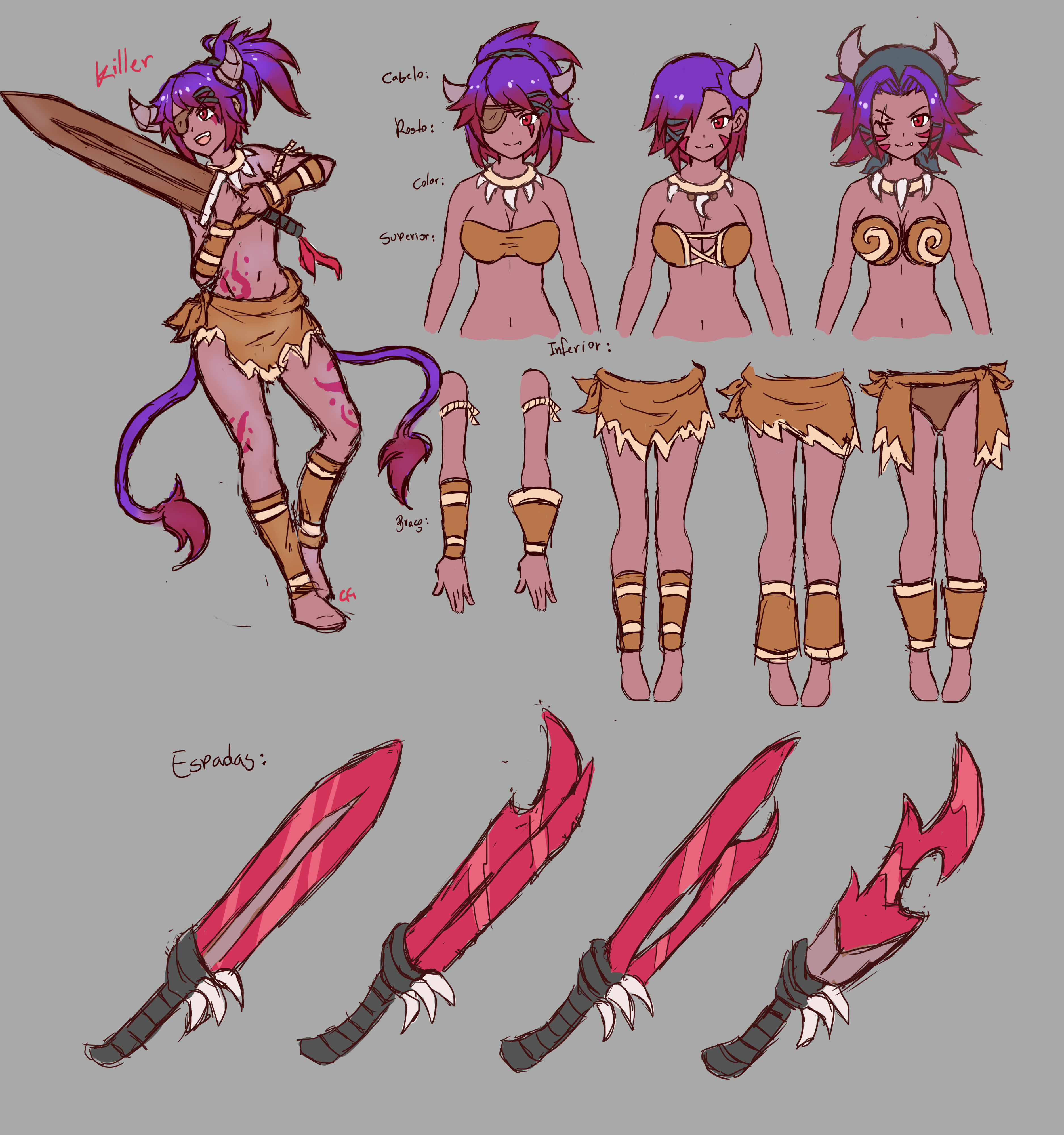 Killers are fearless warriors using their violence and brute force to get what they want. In their society aggressiveness, courage, strength and merit are all that matter to them.
Scenario Concept
For the first playable version of Amazon Alien, 1 scenario in a forest. This scenario is sufficient for game validation in this step.
In the forest setting we have traps that appear randomly, making competition even more dangerous.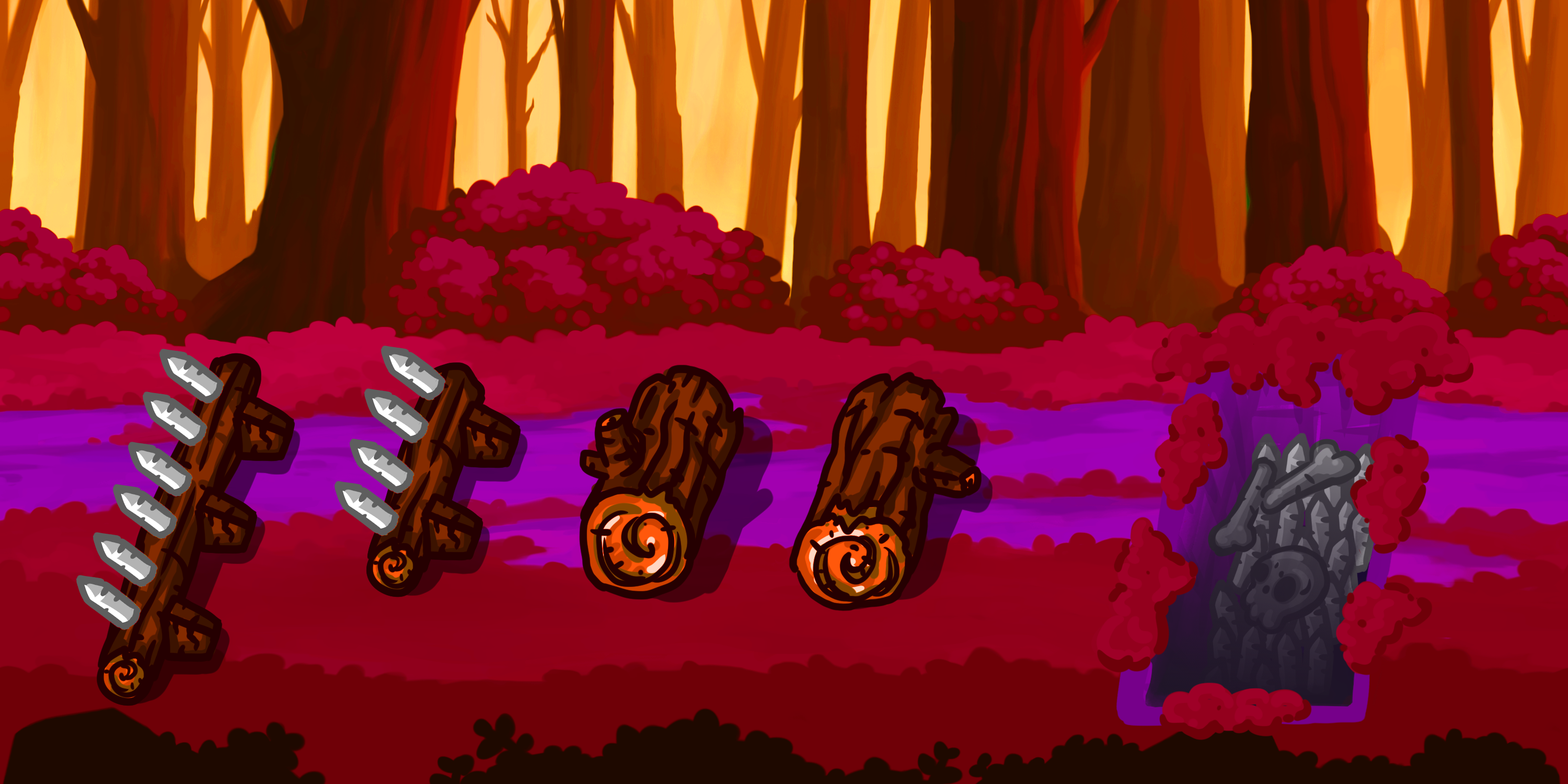 Hunted Human Concept
Surely this concept is the most fun, was used as a basis a Pippin Games internal meme: The Farofa-Man, played by our dear musician Daniel Geber, nickname Fofinho. See the fun below.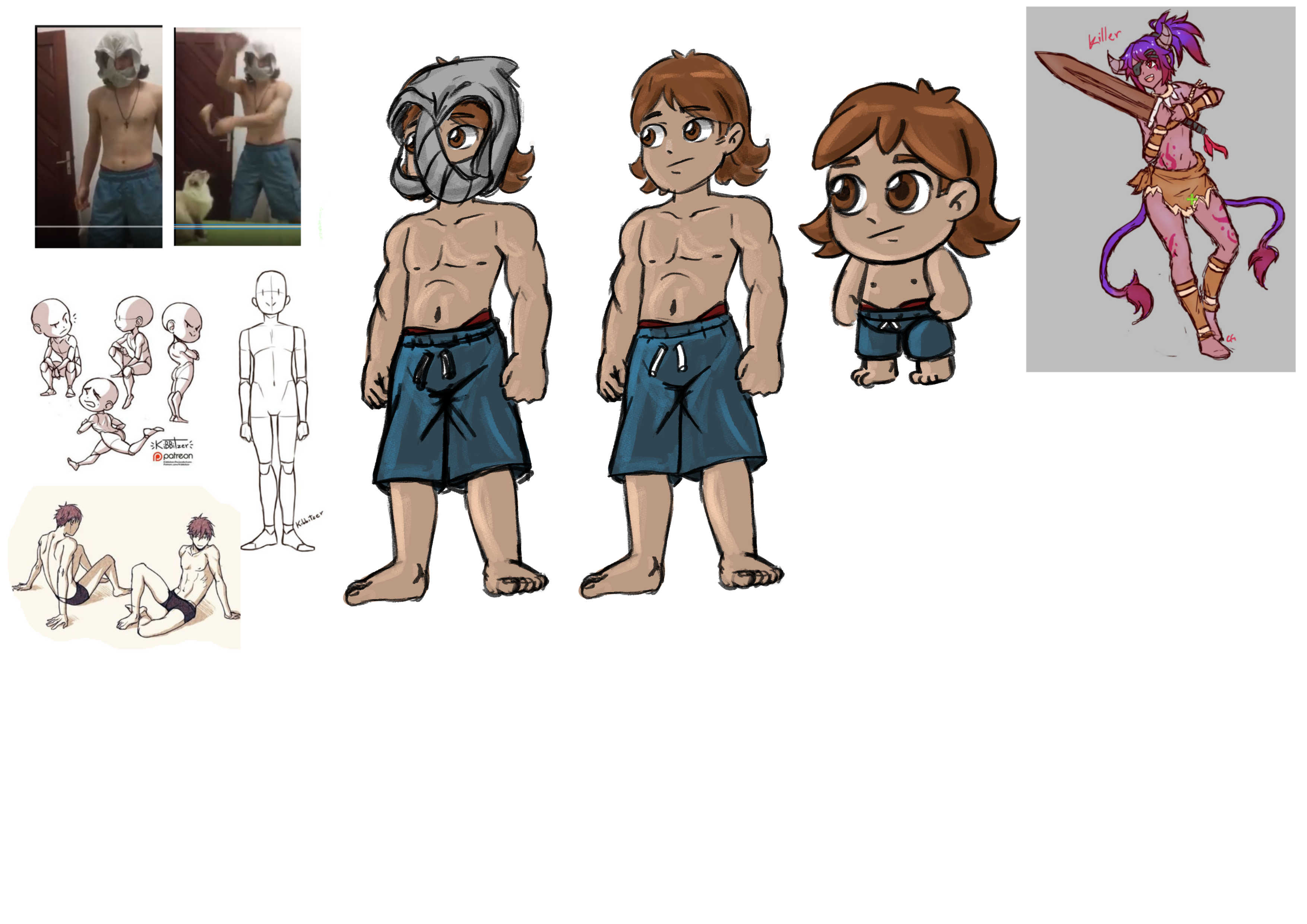 NOTE: Games are fun. We can use ourselves as a source of inspiration and references for our incredible universes.
UI Concept
The interfaces are conceptualized by screens, each screen has an interface. The key to designing good interfaces is to keep the color palette standard and reuse key elements such as backgrounds, panels, text fonts, and so on. Researching design principles can help you a lot.
TItle Screen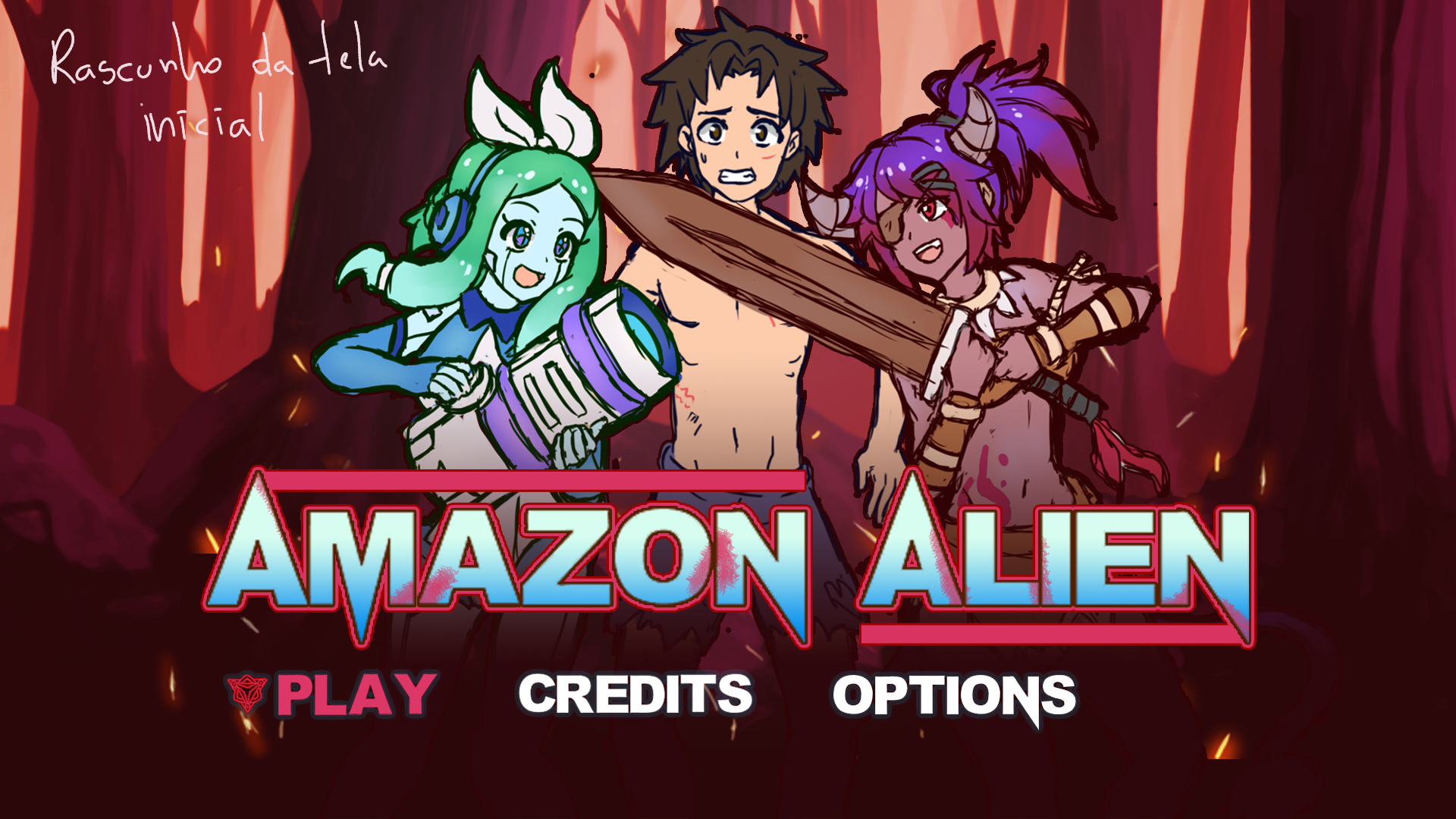 Loading Screen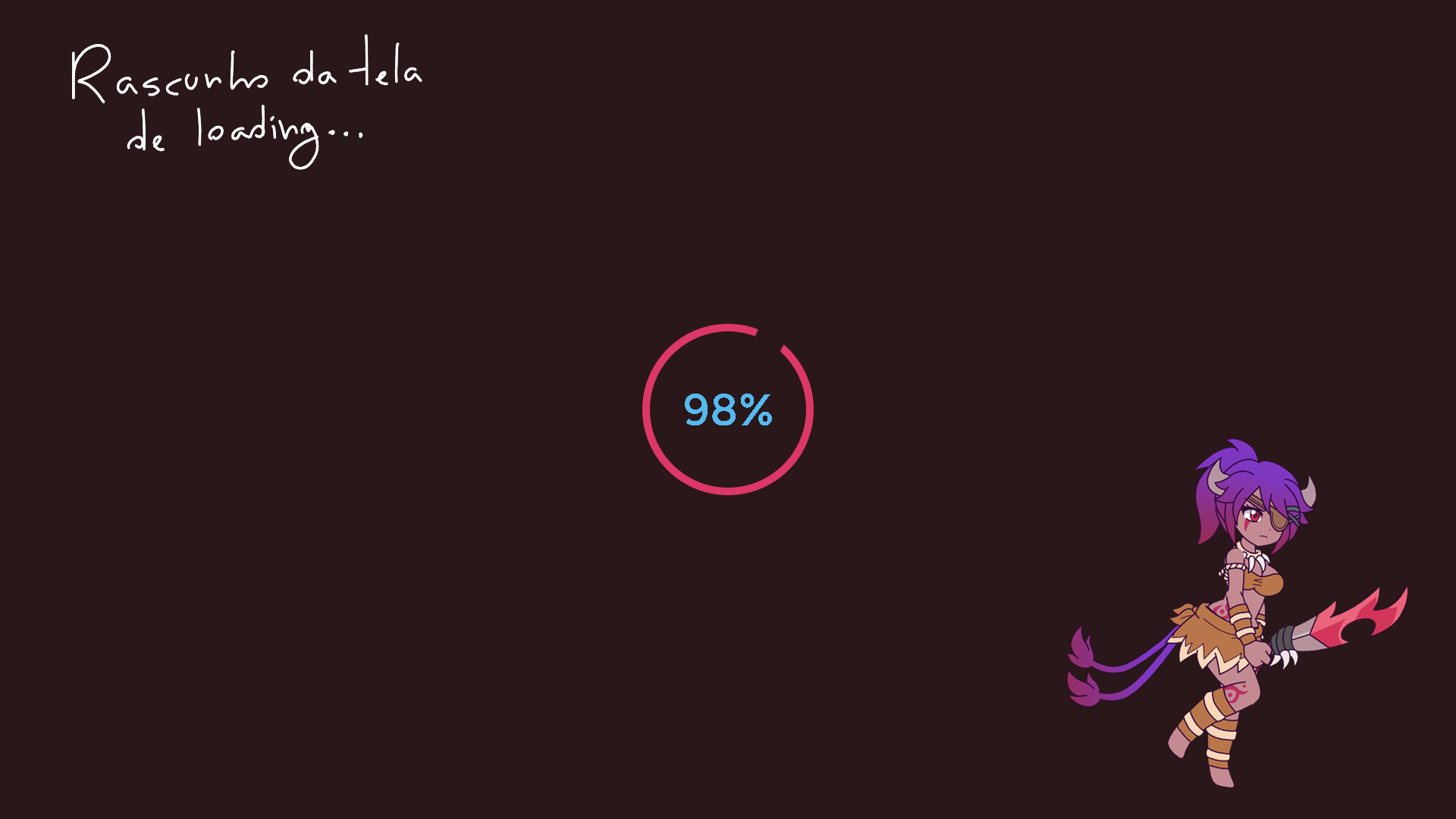 Credits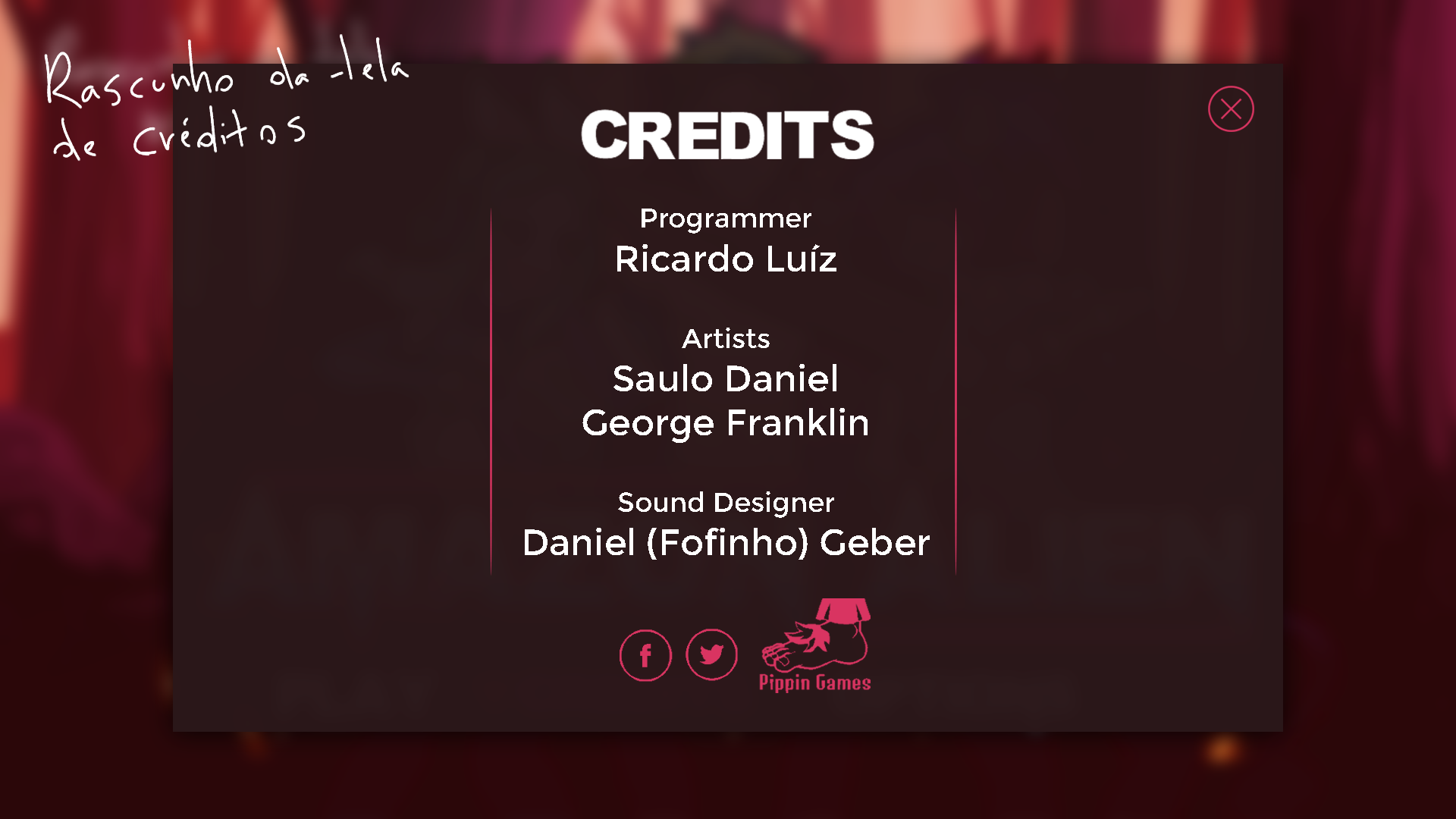 Pause Game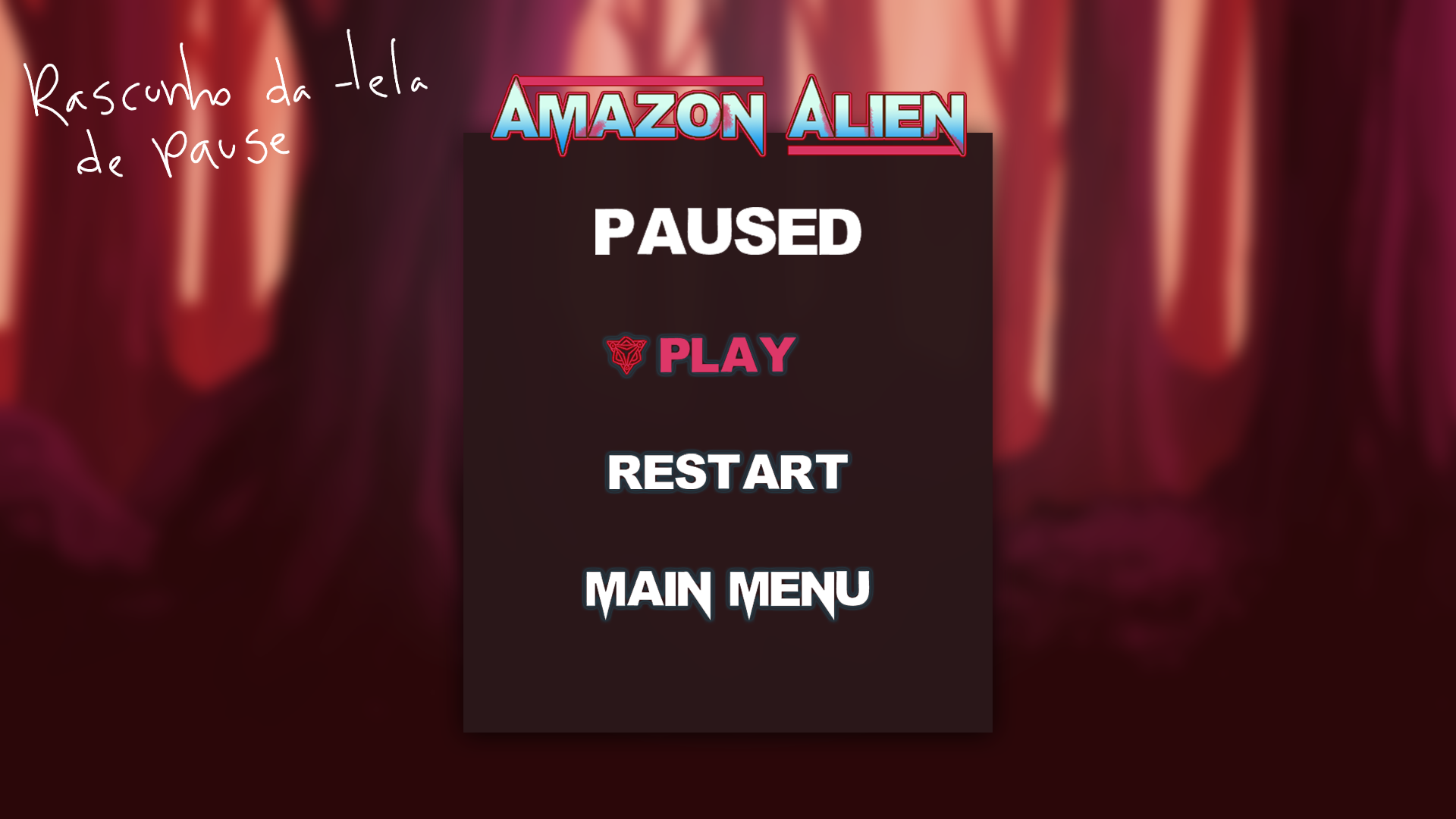 Character Selection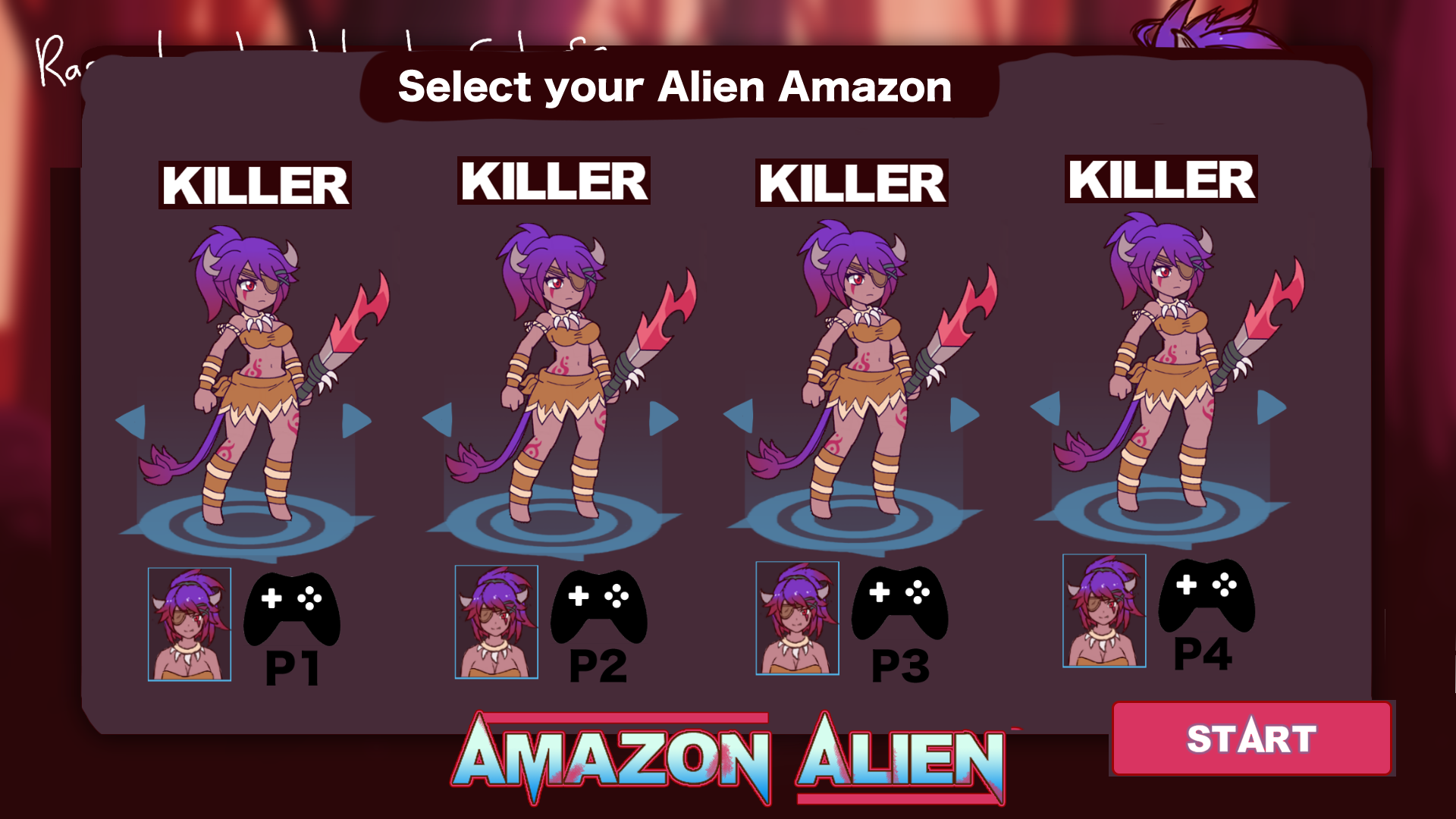 Character Lore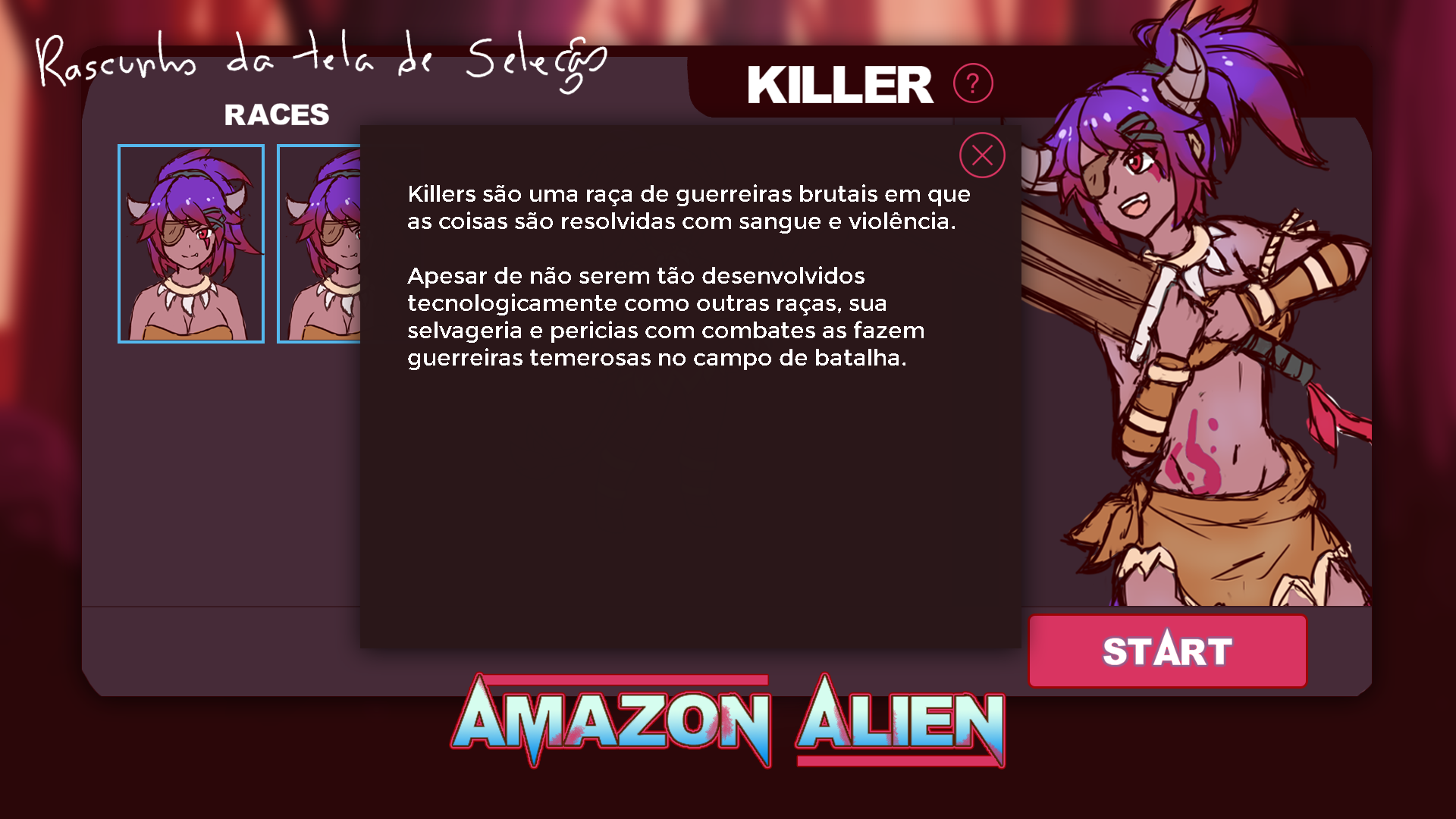 Finaling
And that's it guys, in the conceptualization part, in this project the engineering part was focused on validating and creating secondary plans for the implementation of our target platform and technically validating the mechanics that will be implemented. The audio part was not started at this time, because for the composer and sound design to do his work he needs descriptive and visual information to properly set the music and sound effects.
So that's it guys, see you next time, enjoy and comment what you think of the concepts of the game there in our social networks. A big hug, I went!
---
Versão em Português
Devlog 2 (Conceito do Projeto)
E aí galera? Tudo bem? Aqui quem escreve é o Ricardo Luiz, programador, líder, produtor da Pippin Games Studio.
Primeiro de tudo, muito obrigado pelo interesse em ler nosso DevLog e em novos jogos.
Neste Devlog vou abordar um tema bem bacana: Como foi nossa semana de conceituação do Amazon Alien.
Aproveita e passa em nossas redes sociais Facebook, Twitter e Instagram e dá uma olhadinha nos nossos outros jogos KDD, Fungi, Marine, Glad Gladiators. Tenho certeza que você vai gostar!
O que é o Amazon Alien?
Em Amazon Alien diversas tribos intergaláticas de mulheres guerreiras, durante o alinhamento planetário galáctico, disputam uma corrida de caça mortal. Onde um homem sortudo é sequestrado para servir de presa para essas ferozes lutadoras. O objetivo é simples quem capturar o alvo vence. Mas não será tão fácil com tantas amazonas habilidosas na disputa.
Um planeta perigoso é escolhido como local da competição, então a caça é solta para tentar fugir de seu destino inevitável. As amazonas então começam suas corridas e lutas entre si para ver que o captura primeiro. A vencedora além do título de campeã leva a caça, e aproveita-a do jeito que bem entender
O jogo segue uma mistura de Runner com Party Games, competitivo para até 4 jogadores, com pancadaria frenéticas, personagens super fofas e carismáticas, lindas artes vívidas usando tecnologia de movimentação 2d e cenas especiais no final de cada partida.
Conceitos
Por que é tão importante a conceituação do jogo? Como abordei no último Devlog, a importância do conceito (seja artístico ou textual) e dar uma visão do resultado esperado no projeto e ajudar no planejamento das atividades e etapas. Ao construir conceitos, antes de botar a mão na massa, é possível visualizar os pontos de maior risco, encontrar elementos que podem ser cortados, enfim, acredito que planejar é a palavra-chave.
Conceito das Personagens
Para o Amazon Alien foi construido 2 personagens com habilidades distintas. Apresento os conceitos da Bionic e da Killer. 2 raças de Amazonas.
Bionic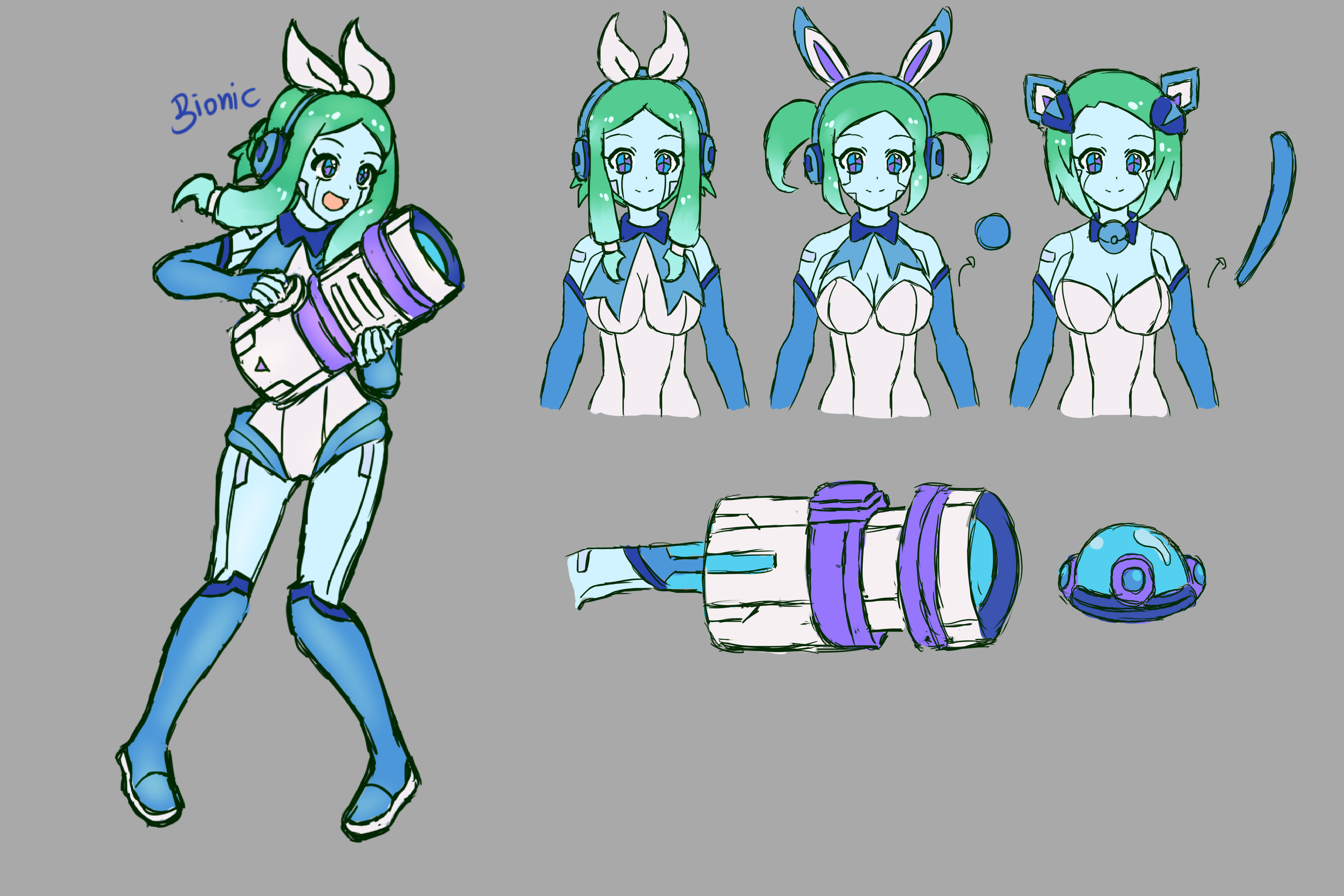 As Bionics são uma raça de guerreiras cibernéticas, com uma sociedade altamente desenvolvida tecnologicamente, conhecimentos avançados, civilidade e um conceito de conquista pela paciência, elas adoram coisas fofas (acessórios, roupas, doces, animais de estimação, apesar de não precisarem de nada disso por causa do seu corpo robótico). Mas não se deixe enganar por sua doçura, beleza e jeitinho meigo. No fim das contas elas também são guerreiras, loucas por uma vitória e mais um brinde fofo na sua coleção.
Killer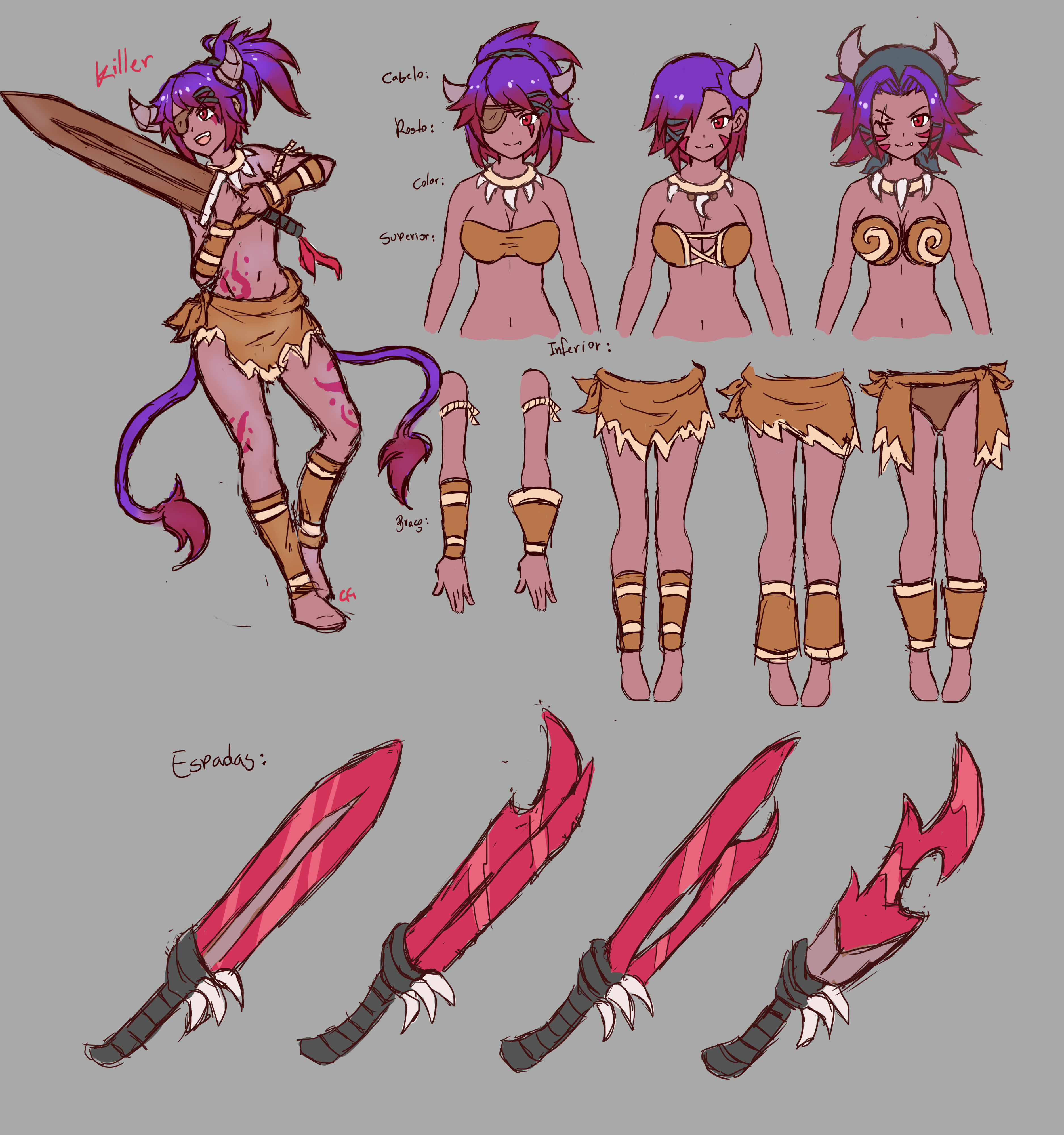 As killers são guerreiras destemidas usando de sua violência e força bruta para conseguir o que querem. Em sua sociedade agressividade, coragem, força e mérito são tudo que importam para elas.
Conceito do Cenário
Para a primeira versão jogável do Amazon Alien, 1 cenário em uma floresta. Esse cenário é suficiente para validação do jogo nesta etapa.
No cenário da floresta temos armadilhas que aparecem aleatoriamente, tornando a competição ainda mais perigosa.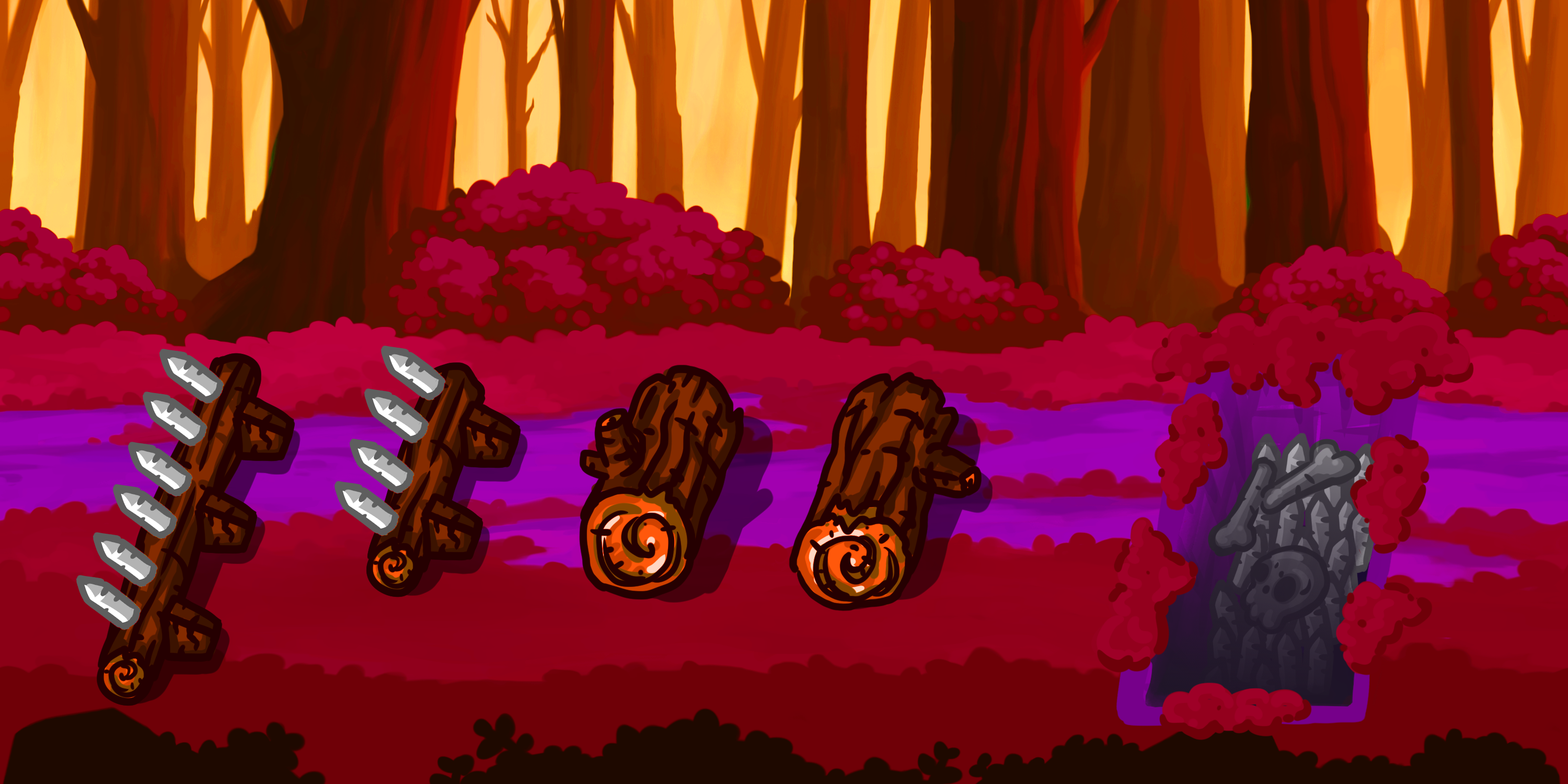 Conceito da Caça Humana
Com toda certeza esse conceito é o mais divertido, foi usado como base um meme interno da Pippin Games, O Homem Farofa, interpretado por nosso querido músico, Daniel Geber, apelido, Fofinho. Veja a presepada abaixo.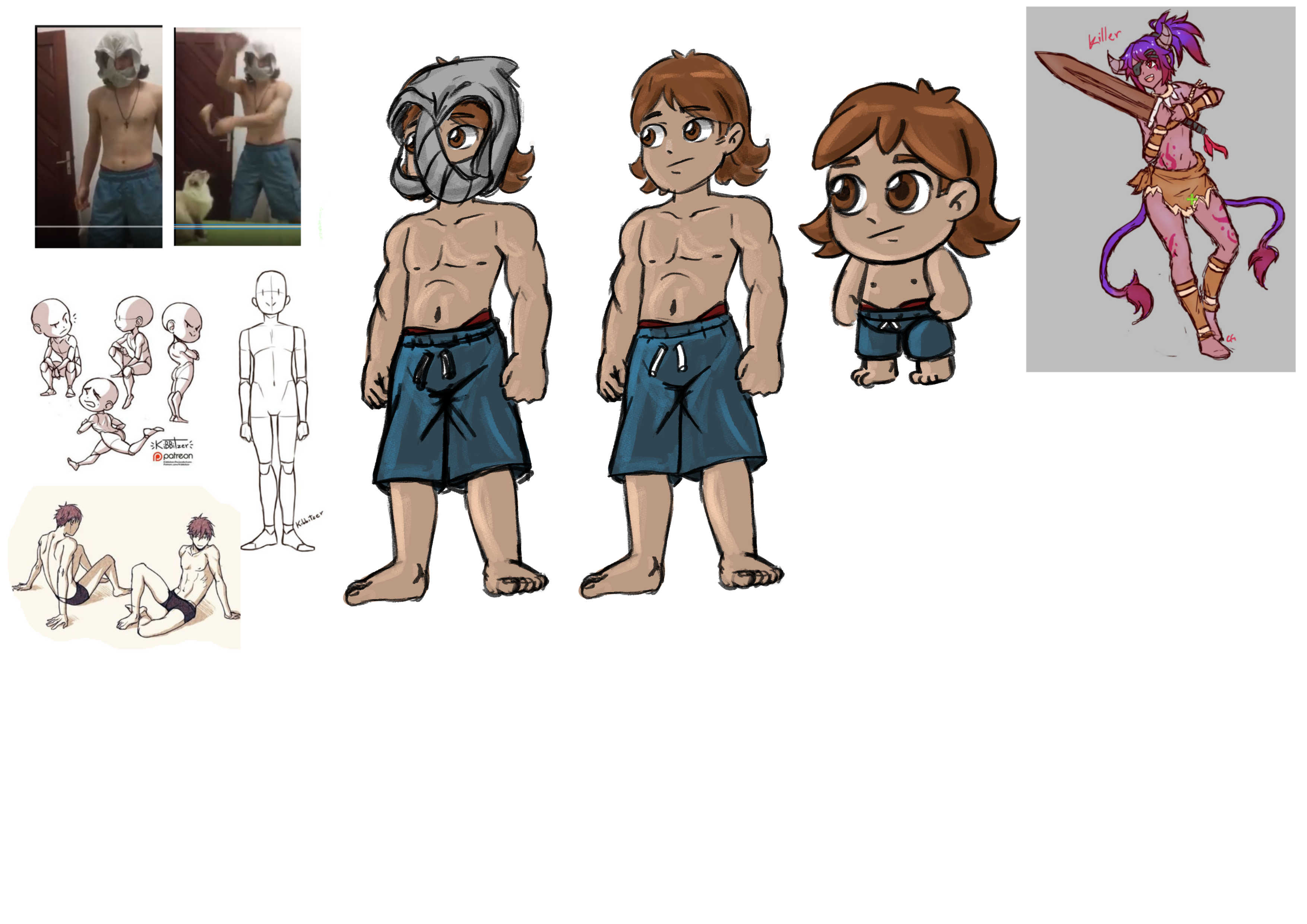 NOTA: jogos são divertidos. Podemos usar nós mesmo como fonte de inspiração e referências para nossos incríveis universos.
Conceito da Interface
As interfaces são conceituadas por telas, cada tela possui uma interface. O segredo para projetar boas interfaces é manter o padrão da paleta de cores e reaproveitar os principais elementos, como, planos de fundos, painéis, fontes de texto e etc. Pesquise sobre princípios do design, pode te ajudar bastante.
Tela Inicial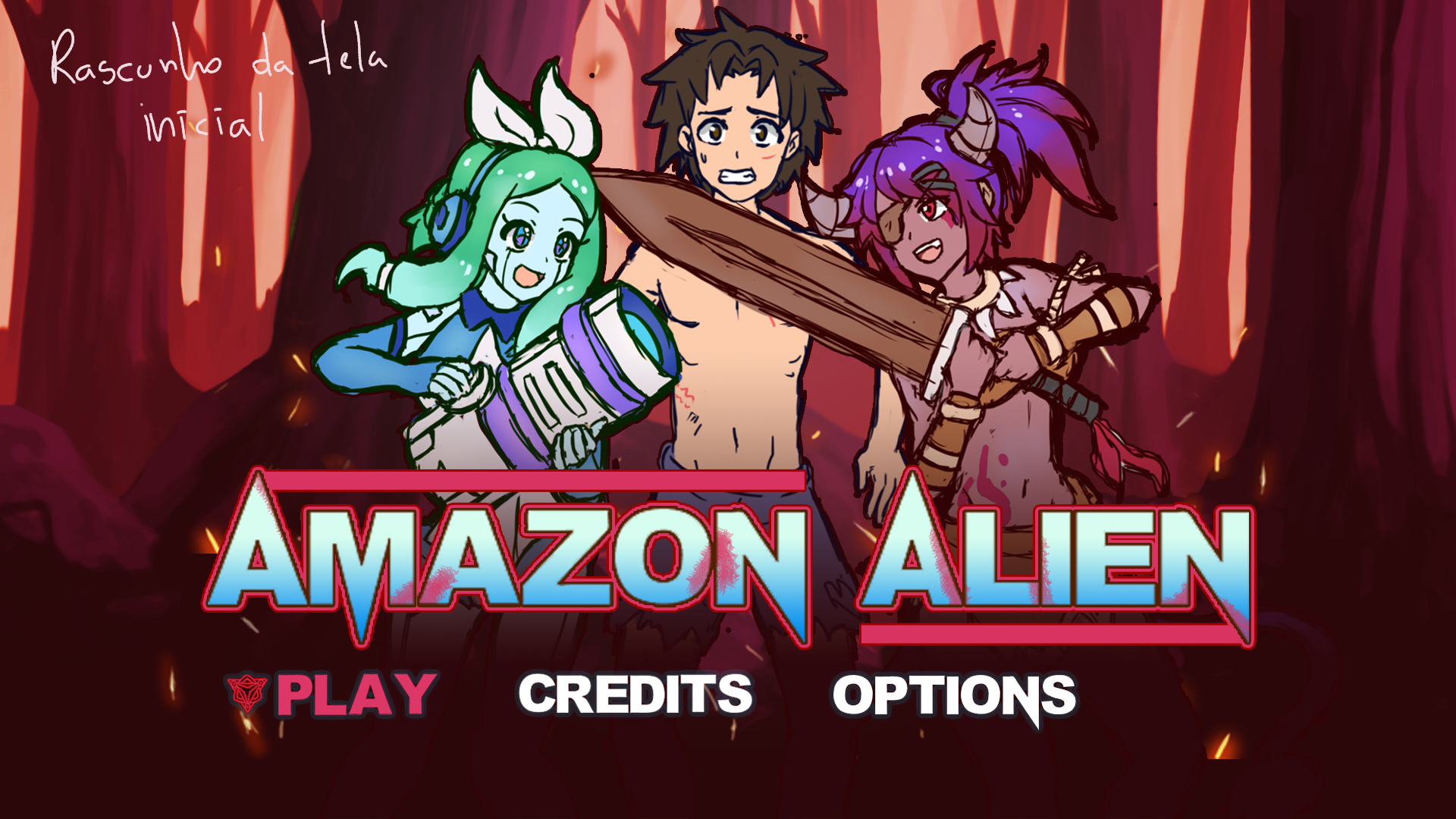 Tela de Loading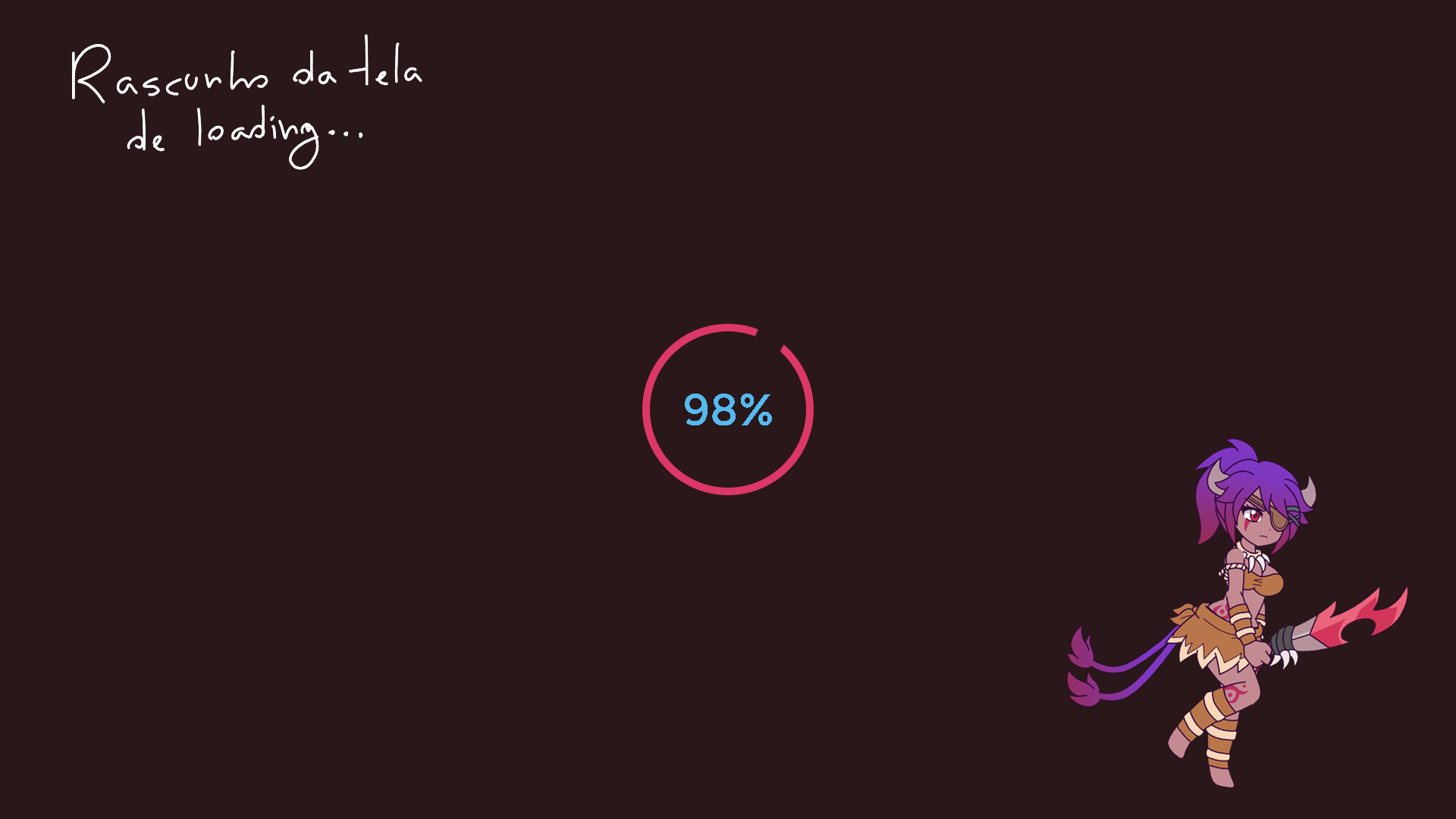 Tela de Créditos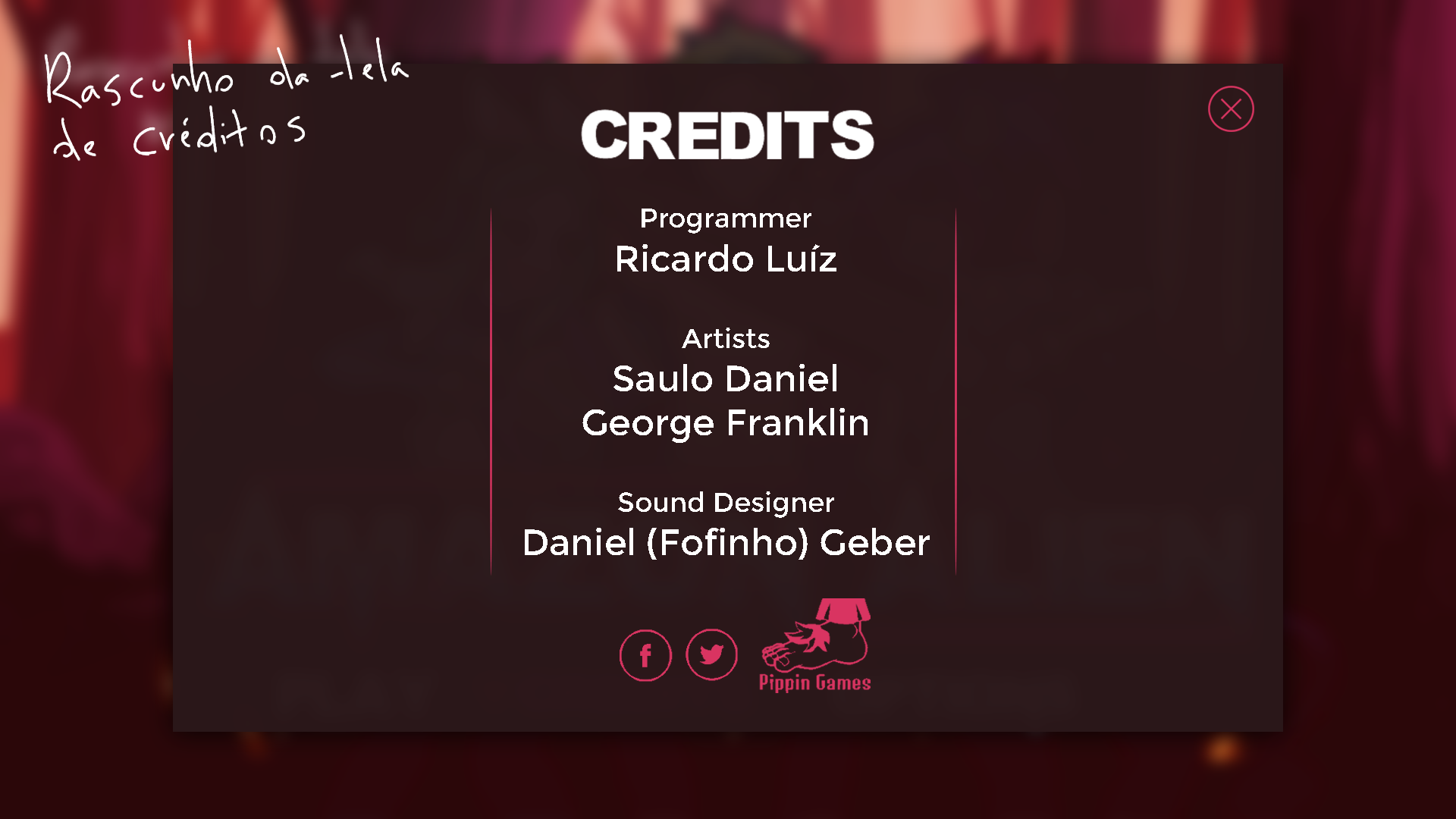 Tela de Pause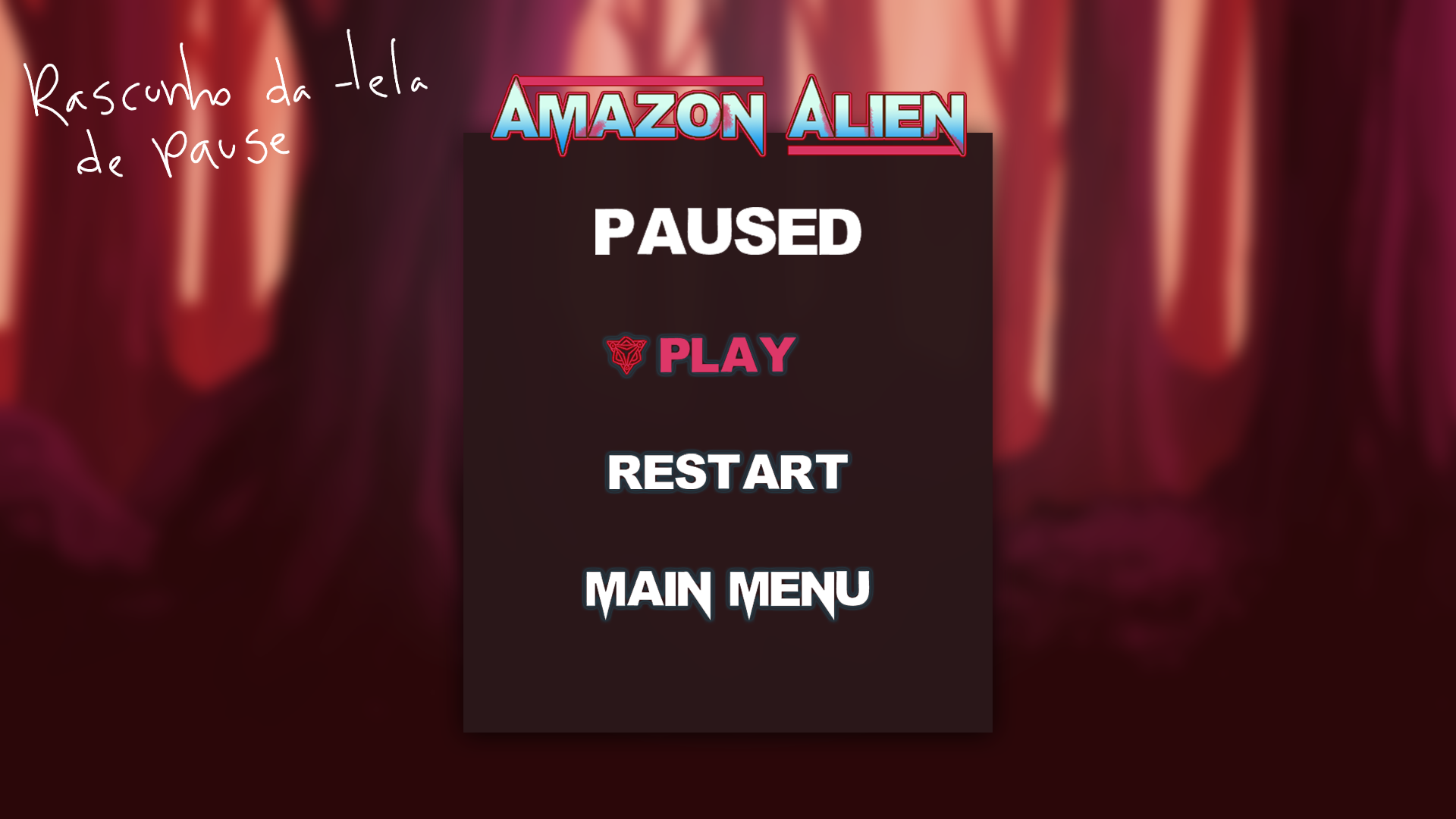 Tela de Seleção de Personagens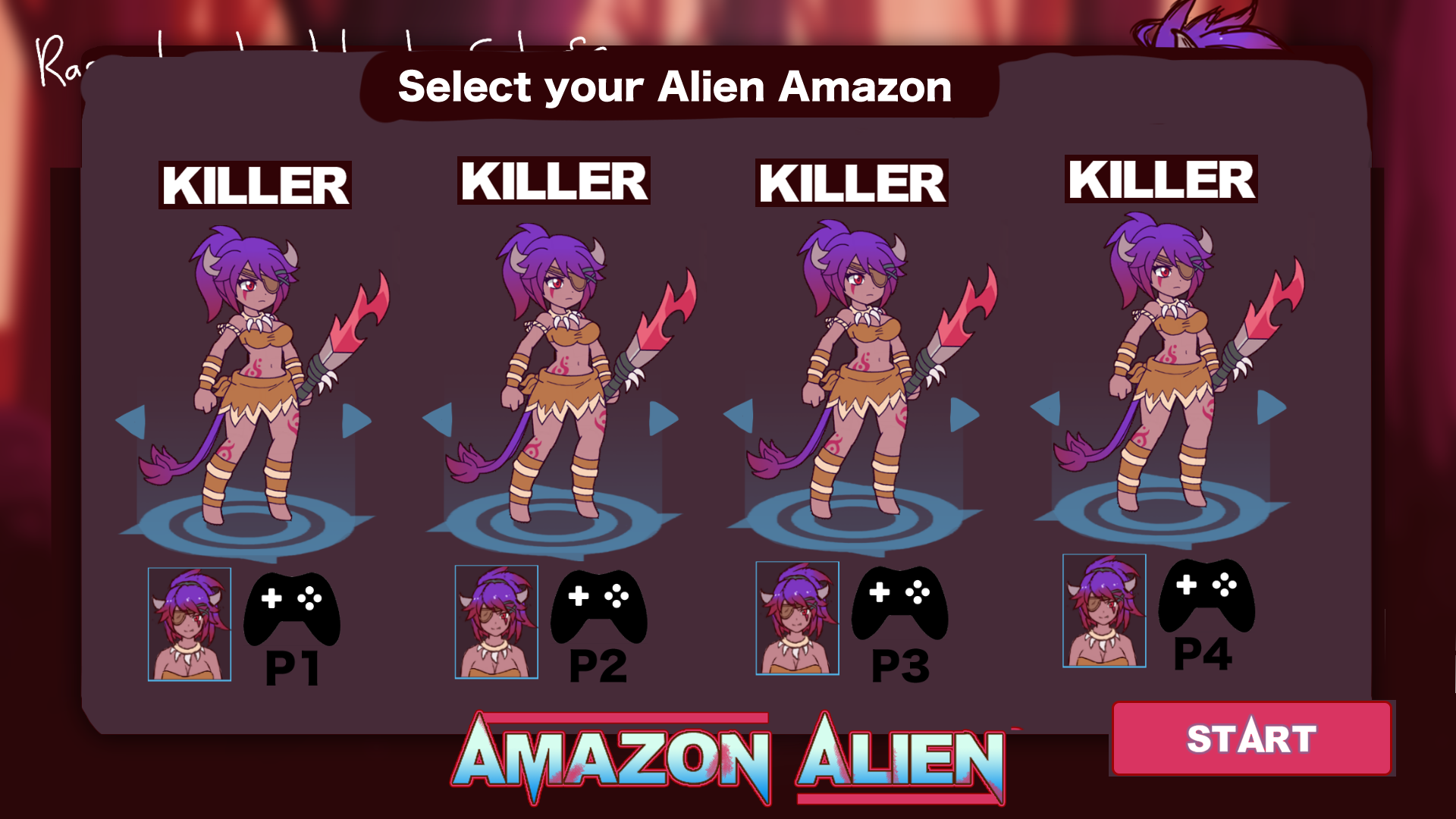 Tela de Explicação de Personagens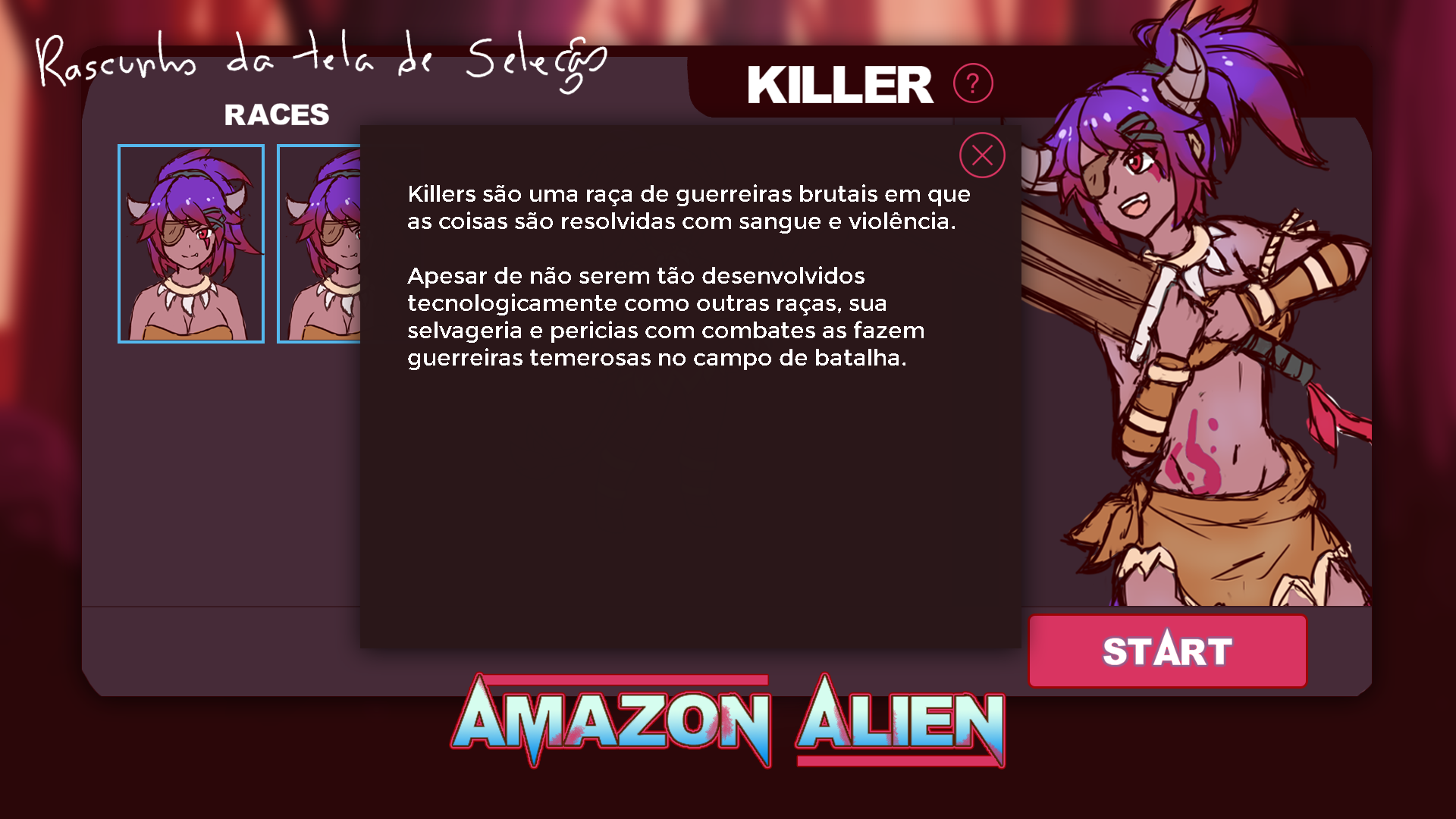 Finalização
E é basicamente é isso galera, na parte de conceituação, neste projeto a parte de engenharia se deteve em validar e criar planos secundários para a implementação da nossa plataforma alvo e validar do ponto de vista técnico as mecânicas que serão implementadas. A parte de áudio não foi iniciada neste momento, pois para o compositor e sound design realizar seu trabalho ele precisa de informações descritivas e visuais para ambientar corretamente as músicas e efeitos sonoros.
Então foi isso galera, até a próxima, aproveita e comenta o que acharam dos conceitos do jogo lá nas nossas redes sociais. Um forte abraço, fui!