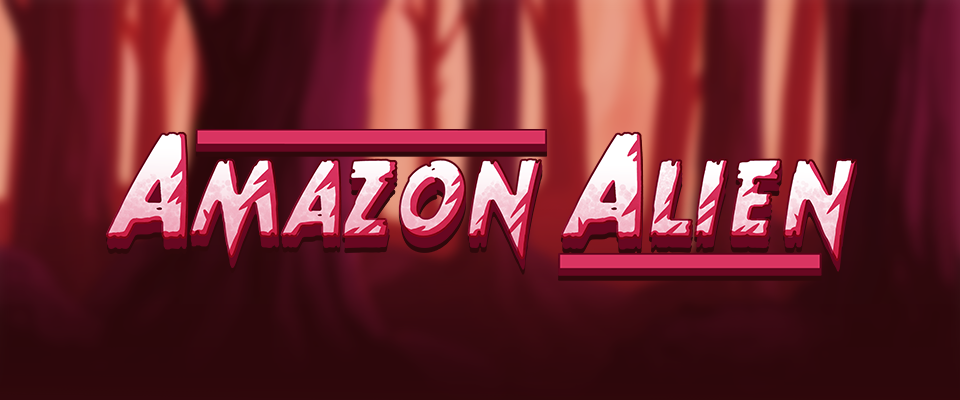 Amazon Alien
Starting a New Project - Amazon Alien Devlog #1
---
English Version
Devlog 1 (Starting a New Project)
What's up guys? All right? Here who writes is Ricardo Luiz, programmer, leader, producer of Pippin Games Studio.
First of all, thank you for your interest in reading our DevLog and for your interest in new games.
In this Devlog I will cover a very cool theme: What is it like to start a new project? How does the planning, the concepts, the construction of the main mechanics work? Liked? Then come with me!
Enjoy and pass our social networks Facebook, Twitter and Instagram and take a look at our other games KDD, Fungi, Marine, Glad Gladiators. I'm sure you will like it!
What is Amazon Alien?
In Amazon Alien, several intergalactic tribes of warrior women, during the galactic planetary alignment, vie for a deadly fighter race. Where a lucky man is kidnapped to prey on these fierce fighters. The goal is simple who captures the target wins. But it won't be so easy with so many skilled Amazons in contention.
A dangerous planet is chosen as the venue for competition, so the hunt is unleashed to try to escape its inevitable fate. The Amazons then begin their races and fights with each other to see who catches them first. The winner beyond the title of champion takes the hunt, and enjoys it the way you want
The game follows a mix of Runner and Party Games, competitive for up to 4 players, with frantic brawling, super cute and charismatic characters, beautiful vivid art using 2d movement technology and special cutscenes at the end of each game.
Designing and Planning the Game
It is very important at the beginning of every project to know exactly what to build. A few simple steps always help in producing a new game. Consideration should be given to: Available resources (such as people, money, etc.), desired time for that project (corresponds to schedule), and Game requirements (features). All of these elements will focus on the final quality.
For this game we decided to build a high fidelity prototype to get an idea of the game's potential and show it to interested people. The time invested depends on the desired scope, in this case, for this first playable version, it usually takes between 2 weeks to 1 month. We call this first stage preproduction, and as a result, we have a well-polished version containing the vertical portion of our game, ** understood by vertical portion, the core elements of the game. **
Ok Ricardo, but what are the steps you follow at Pippin Games? Well I'd say we make a Big Game Jam, that's right, we use the same process as a Game Jam, where we build a small version of our project. We follow the following:
We took a theme or created one - In this case the theme was Alien Hunting -. The theme was created internally by the team members.
References found for our game. Nobody creates anything from 0, we always base ourselves on something we have already seen, in which case we play.
We defined the High Concept for our game. Finity Party Runner for up to 4 players in which Alien Amazons participate in a competitive hunt for a human. This concept can be transformed into your Elevator Pitch as it contains the key words that define our game and its potential.
We Make Our Unique Value Proposition - Runner Mechanics with Party Game - This proposal serves to find the key point (s) that make your game different from the competition.
We defined some Key Features, such as target audience, game genre, target platforms, estimated time to completion.
Finally we built a simple list containing the desired features in the game, such as local multiplayer for up to 4 players, Amazons with a unique skill, frantic competitiveness and so on.
NOTE: Not everything in this concept is definitive, a project is alive and may change over time.
NOTE: In the end we will have the so-called One Sheet GDD.
Activity Distribution
As I mentioned earlier, in this project we decided to make a ** high fidelity ** prototype in the ** pre-production ** stage. The goal is to * validate * our project, * verify its value * in relation to stakeholders. This way we are safe by avoiding building a game project, * which usually takes a few months *, which will not be well appreciated by the public.
We use the Hack'n Plan task management system, a great platform for activity distribution and tracking for game projects. I advise you to take a look, a great option for developers, like us Indies. See the image below.

A Milestone called preproduction, about 1 month and 1 week. Each week is a different sprint, with different activities and goals. In other Devlogs I will cover what was done in these sprints. But in short.
Concept Sprint: The whole concept your game, yes concept art is the key here, everything can be conceptualized, characters, scenarios, interfaces, animations, effects and so on. The ** goal ** is to have enough material to guide you through the rest of the steps and primarily to visualize the end result.
Production Sprint: Having our north defined in conceptualization begins the production of all Art resources (characters, animations, effects, interfaces), Engineering (controls programming, player actions, scenery, interfaces, etc.). provisional features, the goal is to build the logic of functionality), Music and Sound Effects and Design (to verify that the features produced are as planned, design documents such as One Sheet GDD, 10 page GDD, and overall planning. Game design are built prior to starting preproduction, in fact they serve as a guide for this step).
Patch Sprint: This week was inserted due to errors in project scope, some things have been reduced to make the production pipeline faster and more viable for preproduction. A project is alive and anything can happen, you must be prepared to act wisely in the face of challenges. There are some elements that can be manipulated to keep your project on track and on time, such as: Increasing production time; Increase Resources Scope Cut; reduce the quality of the resources produced.
Implementation Sprint: The result of the production sprint is integrated with the engineering part. Withdrawal of provisional appeals are placed the final. At the end of this week our game has a final version face, with the characters, scenarios, interfaces and functional mechanics.
Polishing Sprint: We make critical bug fixes and balance the game.
Finishing
And that was our recipe for building the Amazon Alien. And then? What did you think? Any questions can enter our social networks and comment there. We'll love to answer your questions. See you next DevLogs.
In the other Devlogs I will show the internal building processes of Amazon Alien.
---
Versão em Português
Devlog 1 (Iniciando um Novo Projeto)
E aí galera? Tudo bem? Aqui quem escreve é o Ricardo Luiz, programador, líder, produtor da Pippin Games Studio.
Primeiro de tudo, muito obrigado pelo interesse em ler nosso DevLog e pelo interesse em novos jogos.
Neste Devlog vou abordar um tema bem bacana: Como é iniciar um novo projeto? Como funciona o planejamento, os conceitos, a construção da mecânica principal? Gostou? Então vem comigo!
Aproveita e passa em nossas redes sociais Facebook, Twitter e Instagram e dá uma olhadinha nos nossos outros jogos KDD, Fungi, Marine, Glad Gladiators. Tenho certeza que você vai gostar!
O que é o Amazon Alien?
Em Amazon Alien diversas tribos intergaláticas de mulheres guerreiras, durante o alinhamento planetário galáctico, disputam uma corrida de caça mortal. Onde um homem sortudo é sequestrado para servir de presa para essas ferozes lutadoras. O objetivo é simples quem capturar o alvo vence. Mas não será tão fácil com tantas amazonas habilidosas na disputa.
Um planeta perigoso é escolhido como local da competição, então a caça é solta para tentar fugir de seu destino inevitável. As amazonas então começam suas corridas e lutas entre si para ver que o captura primeiro. A vencedora além do título de campeã leva a caça, e aproveita-a do jeito que bem entender
O jogo segue uma mistura de Runner com Party Games, competitivo para até 4 jogadores, com pancadaria frenéticas, personagens super fofas e carismáticas, lindas artes vívidas usando tecnologia de movimentação 2d e cenas especiais no final de cada partida.
Projetando e Planejando o Jogo
É muito importante no início de todo projeto, saber exatamente o que construir. Alguns passos simples sempre ajudam na produção de um novo jogo. Deve ser levado em consideração: Recursos disponíveis (como pessoas, dinheiro e etc.), tempo que desejado para aquele projeto (corresponde ao cronograma) e requisitos do Jogo (as funcionalidades). Todos esses elementos vão incidir sobre a qualidade final.
Para esse jogo decidimos construir um protótipo de alta fidelidade, para ter ideia do potencial do jogo e exibi-lo para pessoas interessadas. O tempo investido depende do escopo desejado, no caso, para esta primeira versão jogável, geralmente leva entre 2 semanas á 1 mês. Chamamos essa primeira etapa de pré-produção, e como resultado, temos uma versão bem polida contendo a parcela vertical do nosso jogo, **entenda por parcela vertical, os elementos nucleares do jogo.**
Ok Ricardo, mas, quais são os passos que vocês seguem na Pippin Games? Bom eu diria que fazemos uma Big Game Jam, isso mesmo, usamos o mesmo processo de uma Game Jam, onde construímos uma versão reduzida do nosso projeto. Seguimos o seguinte:
Pegamos uma temática ou criamos uma - Neste caso o tema foi Caçada Alien –. O tema foi criado internamente pelos membros da equipe.
Encontrados Referências para nosso jogo. Ninguém cria nada do 0, sempre nos baseamos em algo que já vimos, nesse caso, que jogamos.
Definimos o High Concept para nosso jogo. Finity Party Runner para até 4 jogadores em que Amazonas Alienígenas participam de uma caça competitiva por um ser humano. Esse conceito pode ser transformado no seu Elevator Pitch, pois aqui contém as palavras chaves que definem o nosso jogo e seu potencial.
Elaboramos nossa Proposta Única de Valor – Mecânica de Runner com Party Game – Essa proposta serve para encontrarmos o ponto(s) chave(s) que trás a diferença do seu jogo em relação à concorrência.
Definimos algumas Características chaves, como por exemplo, público alvo, gênero do jogo, plataformas de destino, tempo estimado para conclusão.
Por fim construímos uma simples lista contendo as funcionalidades desejadas no jogo, como por exemplo, o multiplayer local para até 4 jogadores, Amazonas com uma habilidade única, competitividade frenética e etc.
NOTA: Nem tudo nesta conceituação é definitivo, um projeto é vivo e pode sofrer mudanças ao longo do desenvolvimento.
NOTA: No fim vamos ter o chamado One Sheet GDD.
Distribuição de Atividades
Como comentei anteriormente, neste projeto decidimos concretizar um protótipo de **alta fidelidade** na etapa de **pré-produção**. O objetivo é *validar* nosso projeto, *verificar seu valor* em relação aos interessados. Dessa forma ficamos seguros evitando construir um projeto de jogo, *que geralmente toma alguns meses*, que não será bem apreciado pelo público.
Utilizamos o sistema de gerenciamento de tarefas Hack'n Plan, uma ótima plataforma para distribuição e rastreio de atividades para projetos de jogos. Aconselho darem uma olhada, uma excelente opção para desenvolvedores, como nós, Indies. Veja na Imagem Abaixo.

Uma Milestones chamada de pré-produção, de cerca de 1 mês e 1 semana. Cada semana é uma sprint diferente, com atividades e objetivos distintos. Em outros Devlogs abordarei o que foi feito nestas sprints. Mas Resumindo.
Sprint de Conceituação: O conceito inteiro seu jogo, sim arte conceitual é a chave aqui, tudo pode ser conceituado, personagens, cenários, interfaces, animações, efeitos e etc. O **objetivo** é ter material suficiente para servir de linha guia durante o resto das etapas e principalmente visualizar o resultado final.
Sprint de Produção: Tendo nosso norte definido na conceituação começa a produção de todos os recursos de Arte (personagens, animações, efeitos, interfaces), Engenharia (programação de controles, ações do jogador, cenário, interfaces e etc. É importante notar, usamos recursos provisórios, o objetivo é construir a lógica da funcionalidade), Música e Efeitos Sonoros e Design (verificar se os recursos produzidos estão de acordo com o planejado, documentos de design, como One Sheet GDD, 10 page GDD e o planejamento geral. O design do jogo são construídos antes de iniciar a pré-produção, na verdade eles servem como guia para essa etapa).
Sprint de Correção: Essa semana foi inserida devido a erros no escopo do projeto, algumas coisas foram reduzidas para torna o Pipeline de produção mais rápido e viável para a pré-produção. Um projeto é vivo e tudo pode acontecer, você deve estar preparado para agir sabiamente em frente aos desafios. Existe alguns elementos que podem ser manipulados para manter seu projeto no caminho certo e nos prazos certos, como: Aumentar o tempo de produção; Aumentar Recursos; Corte de Escopo; reduzir qualidade dos recursos produzidos.
Sprint de Implementação: O resultado da sprint de produção é integrado a parte de engenharia. Retirados os recursos provisórios são colocados os finais. No fim desta semana nosso jogo está com cara de versão final, com as personagens, cenários, interfaces e mecânicas funcionais.
Sprint de Polimento: realizamos as correções de bugs críticos e balanceamos o jogo.
Finalização
E essa foi nossa receita para a construção do Amazon Alien. E então? O que acharam? Qualquer dúvida pode entrar nas nossas redes sociais e comentar por lá. Vamos adorar tirar suas dúvidas. Nos vemos no próximo DevLogs.
Nos outros Devlogs vou mostrar os processos internos de construção do Amazon Alien.
Files
AmazonAliens-Windows.zip
51 MB
Jul 29, 2019